03julAll Day4th of July Holiday - OBSERVED Office Closed!
Event Details

Due to the 4th of July Holiday on Saturday, the Hancock County Tourism and Visitor Center office will be closed on Friday, July 3rd to allow staff to celebrate the holiday with their families.
Hancock County Tourism and Visitor Center119 W. North St, Greenfield, IN 46140This is the visitor center and main office for Hancock County Tourism. You can pick up literature about the county and other entities around the state. You can also get information from the Executive Director as long as she is in the office. If she is away doing other tourism business - this office will be closed. However, there is a 24 hour kiosk with county information immediately outside the tourism office.
Organizer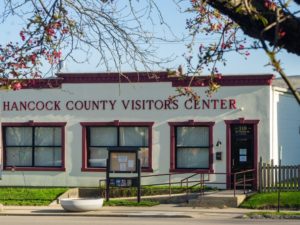 Hancock County Tourism and Visitor CenterThis is the main office for Hancock County Tourism. There are brochures and literature available in the office and in a 24 hour kiosk outside. Please note there is only one staff member - if the Executive Director is away in a meeting or other tourism business - the office will be closed.Brigette Jones 119 W. North St, Greenfield, IN 46140