Confection Connection – Greenfield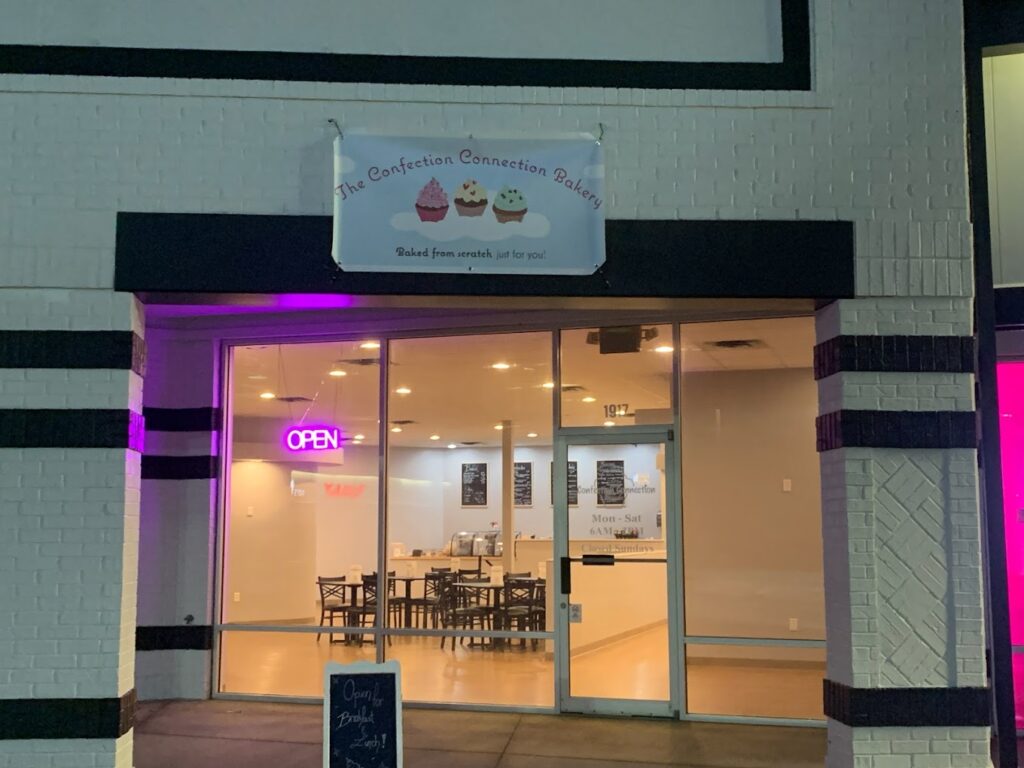 Nestled in a corner of a strip mall near the Greenfield Walmart is a little hidden gem of a restaurant. It features a breakfast, lunch and dinner menu with hearty sandwiches, delicious sumptuous soups, and the best – – an assortment of delectable bakery items: cupcakes, cookies, and cinnamon rolls. This is in addition to made-to-order specialty cakes that are perfect for birthdays, weddings, parties, and other special events. The Confection Connection, located at 1917 Melody Lane, is a must-see place for those hometown delicious dishes that make small communities like Greenfield famous.
The Confection Connection opened in 2021 and is the dream of local resident, Brenda Deskins. After attending a wedding where the cake literally collapsed, Deskins saw an opportunity. "That can't be made right" were her immediate thoughts. This prompted her to explore the world of cake decorating and to learn how to artistically craft all sorts of specialty cakes.
Deskin is entirely self-taught, learning from a variety of online tutorials and YouTube videos. However, she already loved to cook so moving into baking and cake decorating was an easy transition.
Several Facebook photos and word of mouth recommendations later – the demand for her cakes enticed Deskins to give up a corporate job and go into the restaurant business. She and her husband Todd own the business and get some extra added help from her service manager, Lorraine Atkins. Lorraine specializes in customer service, and she has worked in the corporate restaurant world. So, it was a natural fit for her to move into the locally owned eatery where attentiveness to the customer is encouraged, and the pace is a bit slower. This certainly isn't a "fast-food" restaurant. Everything is made to order with the exception of the cases of baked goods. And – sometimes they do occasionally run out of things that are popular. So if you have that hankering for a soup in a bread bowl, a great grilled cheese, or a sweet cinnamon roll – you might want to get to the Confection Connection early.
The Confection Connection is open Monday – Friday 7am – 8pm; Saturday 7am – 2pm, and they are closed Sundays. You can find them on Facebook or at the website at: https://www.theconfectionconnectionbakery.com/
Confection Connection's main highlight is their made to order custom cakes. These can be special ordered for all sorts of occasions and can have all sorts of different kinds of looks, cake flavors, and icing designs. Please sure to stop by and have Brenda make you a one-of-a- kind beautiful cake that would be perfect for any sort of celebration.
–Brigette Cook Jones, Executive Director, Hancock County Tourism and Visitor Center
Sources:
Confection Connection Facebook Page.
Daily Reporter Newspaper
To stay up to date on everything in Hancock County, be sure you are receiving Hancock County Tourism's weekly e-newsletter. You can register on the website at www.visitinhancock.org