Dapple Hill Farm – New Palestine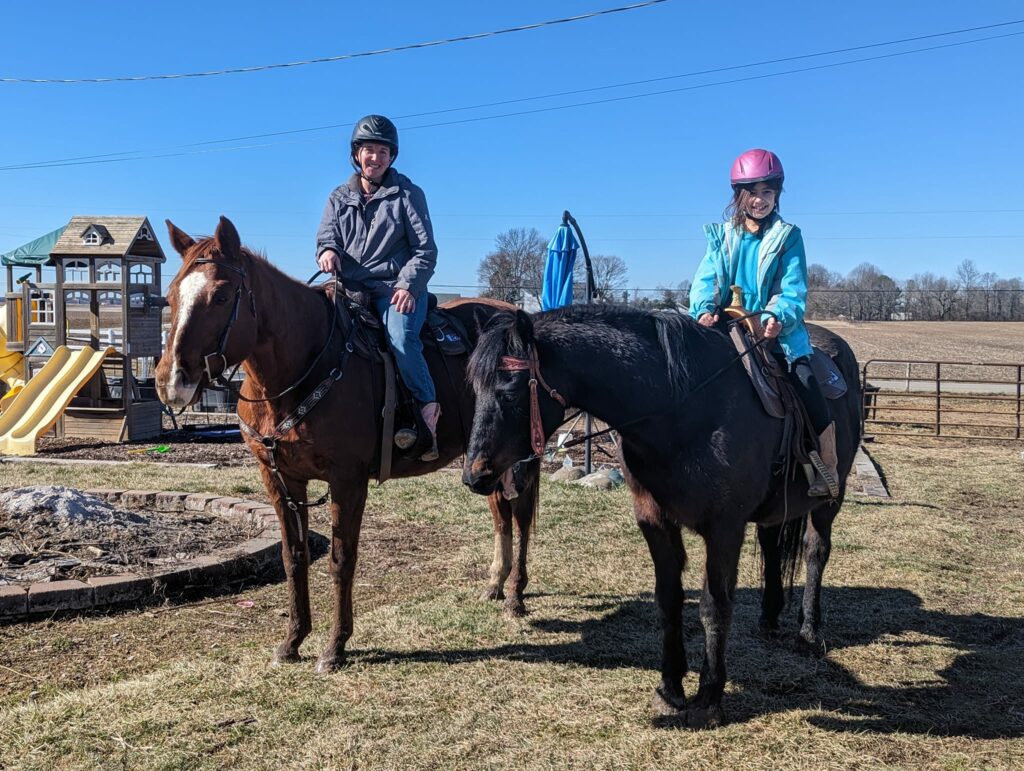 Hancock County is rich with a variety of Tourism options that you won't find in many other places. Case in point is the Dapple Hill Farm, located at  6470 W Stinemyer Rd., New Palestine, IN.
Dapple Hill opened up in 2020 and was a vision of Ashley Boiano, an equestrian with several years experience. Ashley wanted a farm of her own for her horses, chickens, cats and dogs. She has made this dream come true along with her two young children and her husband in their family owned business.
Dapple Hill Farms offers riding lessons, horse boarding, horse and pony camps, horse and art events and pony birthday parties to the public.
At Dapple Hill Farms both English style and Western style riding lessons are offered for people of all ages and skill levels. They have a newly completed outdoor arena where the lessons are held. A comprehensive horse curriculum can also be utilized for those wanting to make the most of riding.
If you have a four legged equine friend and need a place to board him, Dapple Hill Farms has boarding facilities as well. Plus you can rest assured that you horse will be in the expert hands of someone who truly cares about horses.
However, Dapple Hills is not just about riding lessons and boarding. They also offer some very unique camp options throughout the year. Summer Camps are week-long events that involve not only riding lessons, but also stable care, horsemanship, games and activities. Mini-camps are one day events that not only involve riding and learning about horses, but also creating art. Dapple Hill Farms partners with Hancock County Creation Art Studio so that each participant leaves mini camp with a unique piece of art. Art and horses! What's not to love??
Lastly, Dapple Hill Farms can also be booked for children's birthday parties! Children will be entertained with led-horse rides, observing the other farm animals, and playing on the farm play set and dome. For an extra fee, you can add – – painting ON a horse – yes the horse becomes the canvas. Or, you can add on an hour long art activity with Hancock County Creation Art Studio. *Food and drink are not provided for parties – but party planners may bring in food for party guests.
Just be aware – Dapple Hill Farms does not have "regular open hours" everything is done by appointment only. So be sure to call in advance to schedule a visit. You can find out more about all of the great things that Dapple Hill Farms offers by visiting their website at www.dapplehillfarmllc.com or visit their Facebook page.
FALL FESTIVAL CAMPS – October 21, 2023
Dapple Hill Farm along with Hancock County Creation Art Studio will be hosting a Fall Festival Camp on October 21, 2023 at three different times: 9:30am; 12:30pm; 3:30pm. Activities include:
Horse rides

Pumpkin decorating

Bounce House

Face painting

Snacks 
Other activities include coloring, play time, horse grooming, games and feeding chickens
Space is limited for this event so register as soon as you can. This event is for ages 6-12 and cost $65 per child. There is a registration link on the Dapple Hill Farms website.
–Brigette Cook Jones, Executive Director, Hancock County Tourism and Visitor Center
Sources:
Dapple Hill Farm website and Facebook page.
 Indy's Child Magazine, Indianapolis, IN
To stay up to date on everything in Hancock County, be sure you are receiving Hancock County Tourism's weekly e-newsletter. You can register on the website at www.visitinhancock.org