Frosty Boy Drive-in – New Palestine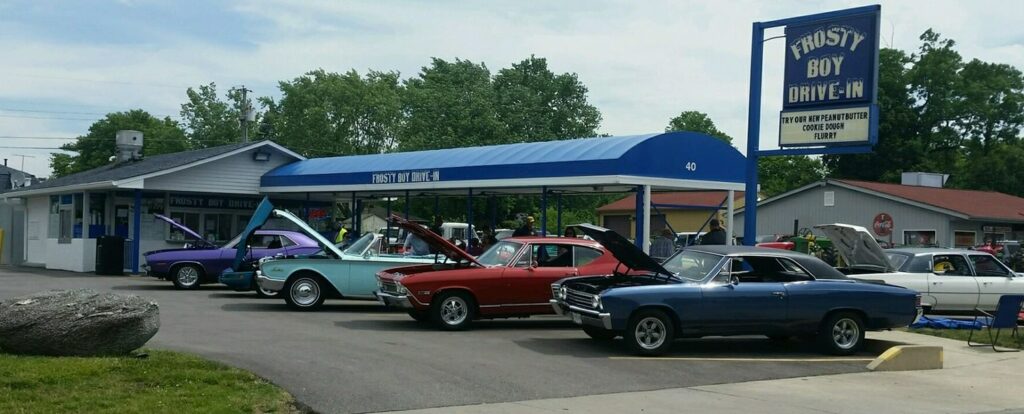 Every March it becomes a rite of Spring, the day the Frosty Boy in New Palestine opens. Frosty Boy, located at 40 W. Main Street, New Palestine, is a family owned business that has been around for over 45 years.  It is a seasonal operation that is only open from the first of March through late October. It's menu is traditional drive-in food fare: hamburgers, hot dogs, tenderloins, french fries and onion rings, but the highlight of Frosty Boy is its ice cream.
Frosty Boy is sort of known for its variety of ice cream desserts, which just seem to hit the right spot on those hot summer days when you are looking for something cold to eat. Frosty Boy has thick milk shakes, Dole Whip ice cream (alternating weekly flavors of lemon, pineapple, orange and cherry), soft serve ice cream, and specialty desserts such as banana splits, turtle sundaes, oreo avalanches and chocolate lover's delights. Sometimes they will have specials – like a strawberry shortcake loaded with strawberries, ice cream, cake and whipped cream. However, their unique item is their "Frosty Pops." These are exclusively made at Frosty Boy and feature any soft serve or whip ice cream along with any toppings in a signature no mess, push pop container. These can be custom ordered in advance so you can stock up on your favorite treat and keep them in your own freezer, or have them made for a kid's birthday party or other event.
Frosty Boy is currently open for business Monday – Thursday 10:30am – 8pm and Friday – Saturday 10:30am – 9pm and Sunday 2 – 8pm. You can follow them on Facebook or check out their website at https://frostyboydrivein.com/
Frosty Boy opened in New Palestine on April 15, 1976. It was first owned by Don Meyer and Vic Boring. By the early 1980s, Jake Gumberts was the owner. In 1999, Steven Crooks purchased the iconic local drive-in.
Crooks, who recently passed away April 20th of this year, had been a long time fixture in the New Palestine restaurant scene. He had been a cook in the army for four years, serving in Ankara and then Istanbul Turkey and later Korea. He met and married his wife, Joan, in Anderson in 1967. Together they would have two sons, Tim and Steven. The family would move to New Palestine where Crooks would work for the the locally owned Lucky Steer Steakhouse until that restaurant closed.
Steven Crooks worked for a variety of other restaurants, finally becoming a salesman for Taylor Ice Cream machines. It just so happened that he was calling on a local customer in New Palestine, when they told him that the Frosty Boy was going up for sale. Crooks would purchase the drive-in in 1999.
The Crooks family would become an institution at the Frosty Boy Drive-in. All of New Palestine (and the surrounding communities)  looked forward to March when the Frosty Boy opened – signaling that spring had arrived. People would come from all around to visit the Frosty Boy and to enjoy the nostalgia of that drive-in experience as well as the excellent customer service by the Crooks family. Visitors would travel from as far away as Richmond, Greenwood, Carmel and Geist to get their "ice cream fix" and experience the drive-in tradition. Frosty Boy is one of only two drive-in restaurants in Hancock County that still exist. A throw back to the hey day of the 1950s when cruising was the thing to do. It was how people gathered and met new friends. As a result, Frosty Boy is a very popular place along US 52.
Speaking of "US 52" – in 2001, Steven Crooks decided to open a family dining establishment, and Café 52 was born. It took its name from the highway that runs in front of the Frosty Boy. Café 52 was located right next door to the drive-in. As a result of this new dining establishment, Steven Crooks would turn over the running of the drive-in to his oldest son, Tim.
At Cafe 52, Crooks and his wife, Joan, would prepare a varied menu and were always experimenting with new dishes and delicacies. The couple would run Cafe 52 for 11 years. They closed in 2012.
Even though Steven Crooks has passed, his son Tim is holding down the family fort at the iconic Drive-in. Frosty boy opened for its 47th year this March with 24 of those years under the helm of the Crooks family. Be sure to visit this family owned icon in New Palestine, and have a milk shake or an ice cream dessert in memory of Steven Crooks.
Sources: Daily Reporter, Frosty Boy website, and Frosty Boy Facebook.
–by Brigette Cook Jones, Executive Director Hancock County Tourism and Visitor Center
To stay up to date on everything in Hancock County, be sure you are receiving Hancock County Tourism's weekly e-newsletter. You can register on the website at www.visitinhancock.org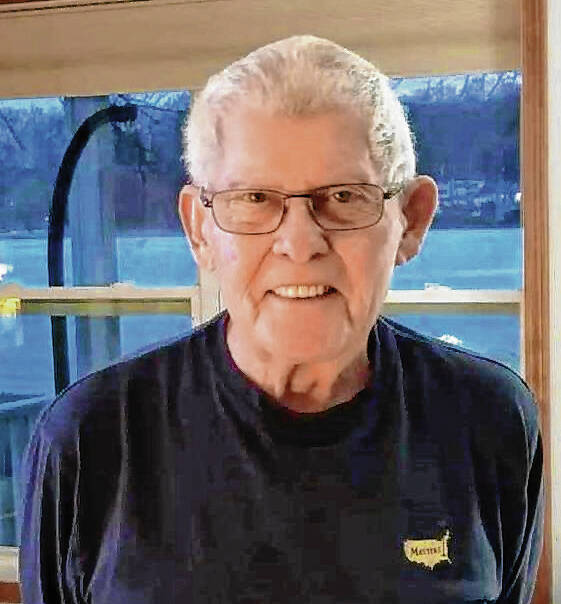 Steven Crooks, former owner of the Frosty Boy Drive-in passed away in April of 2023.