Hancock County Arts Council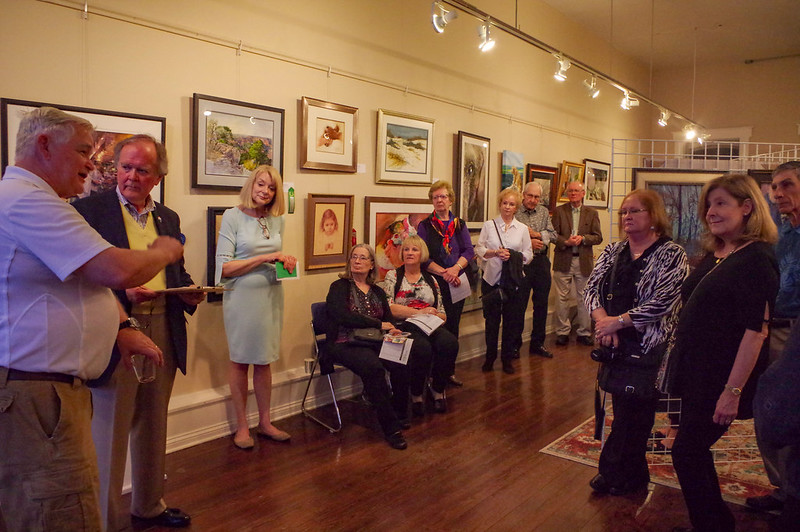 They say "Creativity Takes Courage." Certainly, nothing could be more courageous than putting a lot of time, effort, and passion into creating a work of art, and then putting it on display for all the world to see – – and potentially critique and in some cases – hopefully buy. However, Hancock County Arts does just that. You can visit their art gallery located at 20A N State St., Greenfield, IN to see not only what local artists have to courageously display – but also sometimes people from around the state of Indiana and beyond.
Hancock County Arts was organized in 1996 by local Hancock County artists and friends with a common goal to promote art in Hancock County. In 1999, the Hancock County Arts Council registered as a nonprofit organization, and they entered into a partnership with the Greenfield Parks Department. Their vision was to develop and cultivate the arts community in Hancock County. In 2014, Hancock County Arts signed their first lease at their current home on N. State St. Their mission is to provide leadership for the creative community by encouraging, celebrating, and promoting arts and culture throughout Hancock County. Hancock County Arts supports visual, performing, and literary arts.
While you may have heard about Hancock County Art's annual Will Vawter Art Competition, which draws artists from around the state, you may not know everything else that the Hancock County Arts has to offer.
Year round the Twenty North Gallery hosts a variety of exhibitions. They are just finishing up an exhibit highlighting the teachers of Hancock County, and they are preparing for a new exciting exhibit: Portrait Society of America Regional Exhibit. This new exhibit will focus on – – you guessed it – "Portraits." Usually each new exhibit has a special opening night event, but sometimes there are additional events added. So be sure to check out the event calendar on the Hancock County Arts website and the Hancock County Arts social media.
In addition to exhibits, Hancock County Arts also holds a variety of different classes and open studios. These classes can vary from drawing, painting, needle felting, and other creative activities. They are scheduled at a variety of times and days throughout the week, so be sure to check their workshop list.
You should also consider becoming a member of Hancock County Arts – not only do you get special notification about upcoming events – especially exhibit openings, but you get the satisfaction of knowing you are supporting a unique organization within Hancock County. Hancock County Arts is an entirely all volunteer group. So membership is very important for the support of the organization. You can also choose to help volunteer, but it is not a requirement for membership.
Lastly, if you are looking for some art to hang up in an office or your home – – you might want to take a look at the Hancock County Arts online gallery. This is a place where varied artists can post their art and sell to the public. Many of these pieces have a "Hancock County Theme" to them but not all of them. You will find many different types of art including some photography, and a variety of paintings.
And, if you are looking for an artist to create something unique  — check out Hancock County Arts online artist gallery. There you will be able to see a variety of talented individuals as well as their websites with their work and contact info.
Hancock County Arts Twenty North Gallery is open Wednesday, Thursdays, and Saturdays 11am – 2pm. They are also open for the downtown Greenfield Second Fridays event from 6:30-8:30 pm. You can find more information on the Hancock County Arts Facebook Page or the Hancock County Arts Instagram page. They also have their website at https://www.hancockcountyarts.org/
VERY COOL UPCOMING ART EVENT…
Have you ever heard the phrase – "You have a face for radio?" Usually, this means that the person is good with the media, but maybe doesn't have the "look" for TV. So – Hancock County Arts decided that these radio faces needed to get portraits done. Four different radio personalities will be sitting to have their portrait painted. This includes WIBC's Terry Stacey and Abdul Hakim-Shabazz; former WZPL personality, Julie Patterson and WFBQ's Kristi Lee.
Any artist who would like to come and paint these personalities may do so, but pre-registration IS REQUIRED. You must bring your own easels and supplies. If you are participating as an artist, the fee is $20. REGISTER HERE
The event begins at 9am with a continental breakfast for the registered participants at Bradley Hall Event Center, 2 W. Main St., Greenfield, IN. Painting will commence at 10am with two Portrait Society of America painters, Mary Ann Davis, and David Seward, narrating the event and providing commentary.
Spectators may come any time between 10am – and 3pm to watch the progress of the the paintings. Spectator admission fee is $5. Food and drink will be available for purchase for spectators.
Support the local Arts!!
–Brigette Cook Jones, Executive Director, Hancock County Tourism and Visitor Center
Sources:
Hancock County Arts Facebook and Instagram Pages.
Hancock County Arts website.
Daily Reporter Newspaper, Greenfield, IN
To stay up to date on everything in Hancock County, be sure you are receiving Hancock County Tourism's weekly e-newsletter. You can register on the website at www.visitinhancock.org