Hometown Comics and Games – Greenfield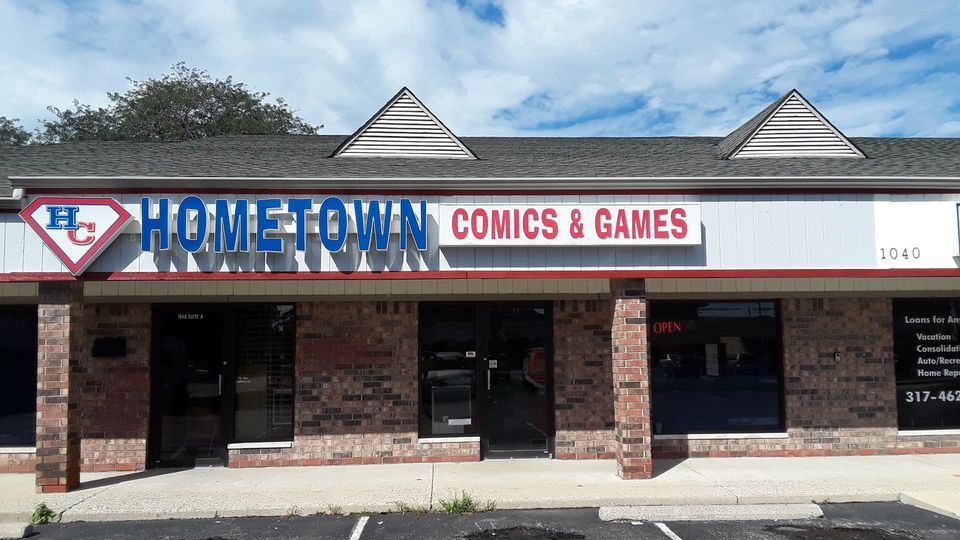 So do you know what actors Henry Cavill, Ryan Reynolds, Rosario Dawson, Nicholas Cage, and musician, Gene Simmons, all have in common? They are all huge comic book collectors! Today, collecting comics is cool; however, your average comic book store has so much more than just comic books. They contain a variety of items that appeal to a multitude of people.
Case in point, Hometown Comics and Games, located at 1040 N. State St., Greenfield, IN is a fine example. It is the only comic book store in Hancock County, opening in 2009. Today, they are now in their third location, and they have grown and expanded with each move. While the store carries a variety of comics from Marvel, DC, Image, IDW, Dark Horse, and others, it also sells much, much more.
Are you interested in cosplay? – For the uninitiated, this is the practice of dressing up as a character from a movie, book, or video game. Hometown Comics has a variety of items to help you achieve your special look. They sell wigs, costume items, props, and even make up! Co-owner Adrianna Hull is especially helpful to people who want to achieve their special look. If Hometown doesn't have the item in stock, they will help you find the item and have it shipped to their store.
Maybe you are into painting miniatures – such as ones for Warhammer 40K or Citadel and others. Hometown Comics can help with this too! They have a variety of paints, brushes, X-acto knives, magnifiers, and other painting tools.  C0-owner Frances Hull loves to paint and shares several of her completed pieces on Hometown's social media. They also have classes where you too can learn how to paint these miniatures.
Gaming! This is a big portion of what Hometown Comics offers. They are an official Konami Tournament store, Wizards of the Coast Advanced Store, and Pokemon League Store. They have two large gaming rooms, and there is something going on in these rooms several days a week. They offer play times for Magic, Yugioh, Warhammer 40K, HeroClix and others. Check out their website or social media to find out when their next playing times will be. If you don't know how to play these games – they can help you learn as well.
Are you looking for a gift for that special nerd or geek in your life? You might consider a visit to Hometown Comics. They also carry a wide variety of pop culture merchandise that focuses on anime, comics, sci-fi and fantasy movie memorabilia and other unique items. Maybe you have a friend who would love a dinosaur shaped purse, a leather journal or a dancing Groot. They also have ink quills, crowns, jewelry and t-shirts. If you are looking for that unusual and unique gift – – Hometown Comics will surely have it.
Of course, what is a comic book store without comics? And this is jewel of Hometown Comics. They have an entire wall dedicated to a variety of titles, and new comics are constantly coming into the store. However, they also have several back issues of comics – – so if you are a collector and have holes in your collection – Hometown Comics can help you out. Furthermore, they have items to help protect and organize your collection – including archivally safe backer boards, comic book sleeves, dividers and boxes. They also have sleeves for cards, magazines and other items. So if you are looking to preserve your special collection – Hometown Comics can help you out with that as well.
Hometown Comics is open Mon – Thurs. 11am – 8pm; Friday 11am – 9pm; Saturday 11am – 8pm; and Sunday 11am – 6pm. They are closed on major holidays. You can find them on Facebook,  Instagram, or check out their website at https://hometowncomicsandgames.com/ 
*They have an online catalog as well! So if you cannot make it into the store, you can order online and have it shipped to you! Check out their catalog in their shop section on their website!
Hometown Comics hosts several events at their store in addition to their game nights. They do have a summer youth board game club that meets on Tuesdays from 3- 6pm. Their club is the perfect blend of social and scholarly fun that promotes community, fair play and confidence for kids aged 10-15. The daily fee is just $10. Plus, their knowledgeable and friendly staff is there to guide your child through new strategies and games that will foster a love of learning, build social skills and encourage teamwork.
Hometown Comics also participates annually in "Free Comic Book Day" which is celebrated on the first Saturday in May. The idea behind this celebration is to gain new comic book readers. Here is a fun fact – – people who read comic books are generally better readers! Yes – comic book reading creates "Super Readers." Studies have shown that when kids read and see a graphical representation of the words in-context, they retain the information better than if they read the words alone. This may be because graphical representations cement long-term memories and word associations more effectively. In addition, comic books are great for ESL readers and autistic kids, they create a visual representation of what is being read to better engage and explain the story. Therefore it is better understood.
Also, remember not all comic books are about super heroes. There are detective stories, fantasy, Manga, and horror. You can also find  graphic novels of classic works including Shakespeare, Jane Austin, Charles Dickens, Jack London, and even the Bible. There are comic books that are targeted towards younger children such as My Little Pony, Adventure Time, Tiny Titans, Spongebob and others. Also, not all superheroes are men – there are several titles that are about super women  – including Wonder Woman, Storm, Bat Girl, and Princess Leia. There is literally something for everyone – to read and become better readers at the same time with comic books.  Not sure what you might like? The friendly staff at Hometown Comics is there to help you find the right titles! This is a locally owned and family owned business.
–Brigette Cook Jones, Executive Director, Hancock County Tourism and Visitor Center
Sources:
Hometown Comics and Games Facebook Page and website.
Daily Reporter
Scholastic
To stay up to date on everything in Hancock County, be sure you are receiving Hancock County Tourism's weekly e-newsletter. You can register on the website at www.visitinhancock.org