Jane Ross Reeves Octagon House – Shirley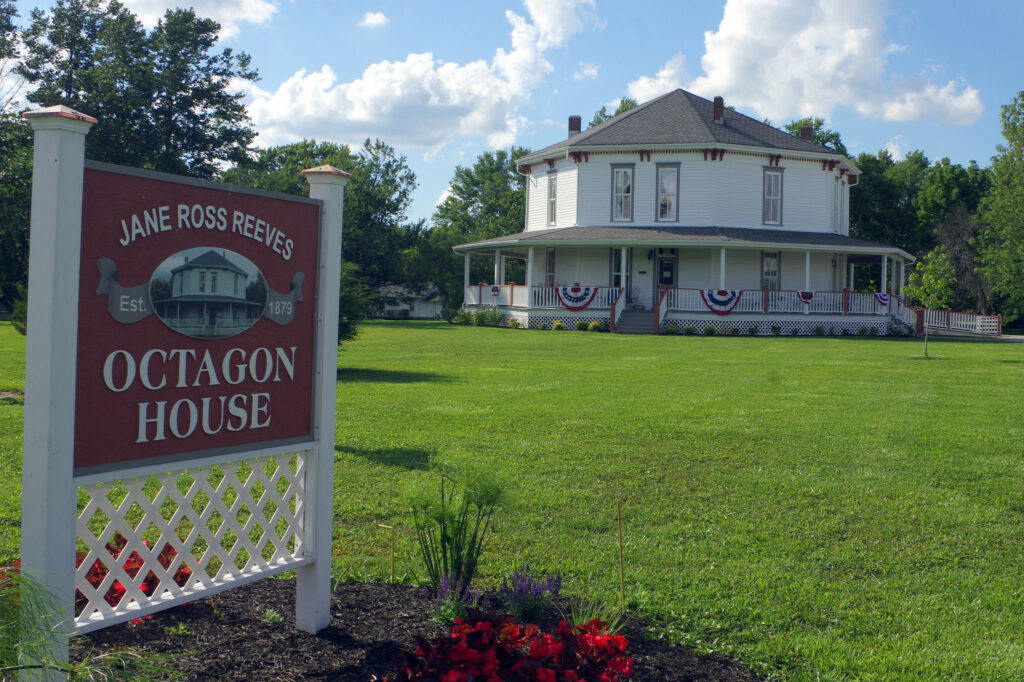 In the 1850s, a noted phrenologist (a person who interprets the bumps in human skulls to determine psychological attributes)  Orson S. Fowler turned his attention to analyzing the shape of the American house. He imagined a more fluid form. Since a circle would be difficult to build with lumber, he settled for an octagon. Fowler promoted the benefits of octagon shaped houses in a book he printed in the northeast, and then he subsequently promoted the design on a lecture tour in the Midwest.
Fowler argued that an octagon shaped house was healthier – it allowed more air to flow and more sunlight to enter inside the building. Other advantages included increased floor space and a larger wall area for windows. He argued that fewer corners would save time in carrying out daily chores and tasks. The design proliferated in the Midwest due to an influx of northeasterners to the region and was enhanced by a housing boom with people frequently looking to pattern books and popular journals for ideas.
It is hard to estimate – but recent surveys have found about 560 Octagon Houses were built during this time – both extant and demolished. That is not very many total houses – so the octagon house design is a rare thing. Here in Indiana, there are only five remaining octagon houses. For that reason, it certainly is wonderful that Hancock County has a beautiful example of this design at the Jane Ross Reeves Octagon House in Shirley, IN.
The Reeves Octagon House was originally located near Wilkinson, but it was moved to Shirley in 1997. The house was built by a widow, Jane Ross Reeves, in 1879. Jane had lost her husband, Elijah three years before she decided to build the Reeves Octagon House. It is said that she found the plans for the design in a magazine. The house was built at a cost of somewhere between $2,300 and $2,500. It was built by Trehr and Brewster, a contracting firm from Fortville, Indiana. They started on the house in June, and it was finished in September. They used all locally milled wood both oak and poplar with the staircase made of walnut. When the house was completed, Jane paid for it in full from silver dollars that she had saved in a shoe box. Jane and her 12 children would move into the home shortly after it was built. 
The Reeves Octagon House is a two story, wooden frame structure that has eight rooms on each floor with each room containing a triangular shaped closet. It is a beautiful example of Fowler's "best plan" for an octagon shaped house. It has a central staircase, and there were four chimneys with each chimney servicing four rooms – two upstairs and two down.
Jane Ross Reeves would pass away in 1907, and the house would remain in the hands of the Reeves family for many years. However, eventually family members dispersed, and the house was used as a tenant farmhouse for awhile. Eventually, the property fell out of the hands of Reeves' descendants. By the 1970s the home was abandoned and in very bad shape. It stood in the middle of a field, and cattle was allowed to shelter inside. The owner, not wanting to maintain the home, had made arrangements for the local fire department to burn the house and use it as a practice fire.
This is when a small group of very motivated men from Shirley, IN decided the house was worthy of being saved. They got permission from the owner to move the home, and in 1997 the 90-ton house rolled ten miles to the northeast to Shirley. A new basement and foundation was waiting, and the process of restoring the home to its former glory began.
In 2001, the house was put on the National Registry of Historic Places as an "Outstanding" example of Fowler's octagon style design. Today, the house has been beautifully restored, and the rooms are filled with furniture from the Victorian era. A wrap-around porch graces the outside, and allows visitors to explore the entire circumference of the building.  The Jane Ross Reeves Octagon House is used as a community center and is open to the public for events and tours. It can also be rented for private events such as weddings or reunions.
The Jane Ross Reeves Octagon House doesn't have regular operating hours, but is open by request only.  You can call or email them to book your tour to see this very unique house. Or, you can tour the home when they are hosting one of their special events. You can find them on Facebook,  or check out their website at https://reevesoctagonhouse.com/
The Jane Ross Reeves Octagon House hosts several events throughout the year.  The Strawberry Festival for Shirley is held on the front lawn of the Reeves Octagon House every May. There are usually two Fish Fry Fundraisers – one in July and one in September. In August is their famous Chicken Noodle Dinner (also a fundraiser). However, it is their Christmas Walk that is probably the most popular. Held on the first two weekends in December, the Octagon House sings with the Christmas Spirit as each of its rooms has a uniquely decorated tree by a local business, organization or patron. On the first weekend, visitors can enjoy chicken and noodles, and on the second weekend, visitors will be served a soup and a sandwich. It is truly a magical event. Not only is the inside decorated, but the outside is illuminated with thousands of lights.
Put these events on your calendar, and visit one of America's true architectural treasures – the Jane Ross Reeves Octagon House in Shirley, IN.
–Brigette Cook Jones, Executive Director, Hancock County Tourism and Visitor Center
Sources:
Jane Ross Reeves Website and Facebook Page
Application for the National Registry of Historic Places – Jane Ross Reeves House
Allison C. Meier – "A Phrenologist's Dream of an Octagon House" JSTOR Daily, March 22, 2019
To stay up to date on everything in Hancock County, be sure you are receiving Hancock County Tourism's weekly e-newsletter. You can register on the website at www.visitinhancock.org