Libby's Ice Cream and Gifts – Fortville and Greenfield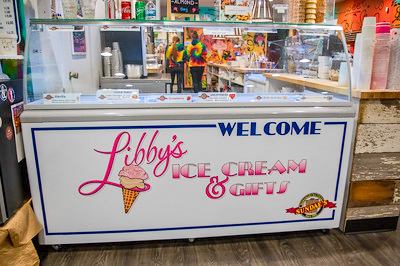 Libby Wyatt loves Fortville, and in 2019 she saw a unique opportunity. The ice cream shop, across the street from a business that she had, closed, and people were disappointed. She was afraid that these people wouldn't come back to Fortville. So – – she decided to give them a reason to come back, and "Libby's Ice Cream and Gifts" was born at 11 South Main Street, Fortville.
Her shop is a mixture of her old business and her new. She has a variety of unique gifts – soaps, jewelry, candles and toys – which was the mainstay of her previous business, The Storehouse. However, with the addition of the ice cream, her business has had that extra boost, and the business has been booming! Lines are frequently out the door.
The ice cream is locally sourced. It comes from Sundae's Homemade Ice Cream in Indianapolis, and the flavors rotate. That way you may get to try something new whenever you stop by for a treat. The best seller is Graham Central Station; however, seasonal favorites such as pumpkin, chewy chocolate and banana brownie are popular. A dairy-free option is always offered. In addition to ice cream cones, Libby's also offers sundaes, banana splits, ice cream sandwiches, milkshakes, malts, smoothies, root beer floats and more. There are even "Pup Cups" for visitors' canine companions.
Flash forward to 2021.
Like Fortville, Greenfield, had lost its hard ice cream shop – years ago. While Dairy Queen and other restaurants offered soft-serve ice cream or soft-serve frozen yogurt, there was no traditional hard ice cream to be found in a shop of its own. Literally, there was a "hard ice cream dessert desert" in Hancock County's largest city.
Opportunity knocked for Libby a second time with the development of Depot Park on the city's southside. This outdoor venue with thousands of people coming to hear concerts during the hot summer months would be a perfect audience for an ice cream shop nearby. So in 2021, Libby opened "Libby's Ice Cream" in Greenfield that year.
The Greenfield business was also a success. However, it was limited. That store was  purely seasonal. It operated from the spring until the fall, and had only walk up service. There was no indoor seating. While the business did great, providing cool treats to concert goers and others in 2021 and in 2022, the business had its limitations. In 2023, it was evident that Libby needed to expand.
The nearby Depot Restaurant offered that opportunity for expansion. The restaurant had acquired the building just east of the eatery and was looking for tenants to fill the empty spaces in their new building. They had built a beer garden space for their own use on the west end and public restrooms for the park in the middle of that building. However, the east end needed tenants.
With Organic Robot Designs taking up one of those free spaces in the building, the empty location on the far east end of the building was perfect for a walk up window as well as some sit-down seating inside. It was time for Libby's to make the move.
Libby's Ice Cream in Greenfield is located at 220 Mill Street and is now open year round. They offer the same great ice cream and treats that could be found at her previous locations so people will be pleased to see all of their old favorites. Now both Fortville and Greenfield each have their own year-round Libby's Ice Cream, and both communities couldn't be happier. Go check them out!
Libby's Fortville location is open 12 – 9pm every day. The Greenfield location is open Monday – Thursday 12- 9pm; Friday and Saturday 12 – 10pm, and 12pm – 9pm on Sunday. This is to accommodate the late night concert visitors on the weekends. You can follow the Fortville store on the Fortville Libby's Facebook Page and the Greenfield store on Greenfield Libby's Facebook Page.
Libby's Ice Cream and Gifts in Fortville offers special craft nights and cookie decorating events for a minimal fee. Be sure to follow their Facebook page or check out the Hancock County Tourism Event Calendar for these and other upcoming events.
–Brigette Cook Jones, Executive Director, Hancock County Tourism and Visitor Center
Sources:
Libby's Ice Cream and Gifts (Fortville) and Libby's Ice Cream (Greenfield) Facebook Pages.
Daily Reporter Newspaper, Greenfield, IN
Town Post Newspaper, Fishers, IN
To stay up to date on everything in Hancock County, be sure you are receiving Hancock County Tourism's weekly e-newsletter. You can register on the website at www.visitinhancock.org