Maduro on Main – Fortville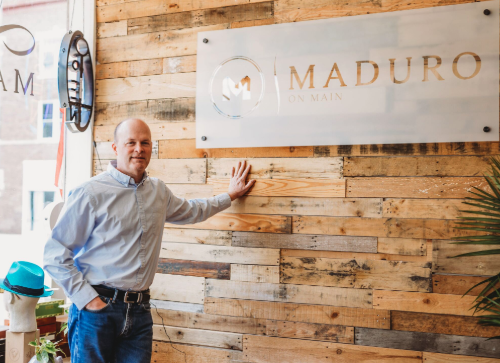 Hancock County certainly has hidden gems when it comes to unique businesses. However, to have the only cigar shop in the county is certainly special. While other smoke shops may focus on a variety of options – cigarettes, cigars, vape, etc. There is only one shop dedicated to primarily cigars in all of Hancock County.
Maduro on Main, located at 11 S. Main Street, Fortville opened in March of 2019 with its focus being cigars. The owner Larry Harnish opened his store in Fortville where he could create an entirely unique atmosphere for cigar smokers. Upon opening his shop Harnish was quoted by the Fishers Towne Post: "A cigar makes you feel like you've accomplished something…When champions win the Super Bowl or hoist the NBA trophy, they smoke cigars, when you get married you have cigars, at the birth of a child, you pass out cigars. Those are all good moments that you like to share, and I want to share that feeling to those that aren't familiar with cigars. My shop is a little different than most cigar shops. When people think of cigar shops they think of a smoky place or white tile floors with cigarettes on the wall, and this isn't like that. It's more of a lifestyle setting and a relaxing type of environment."
Maduro on Main certainly delivers on providing a cigar lifestyle and a cigar environment. Its treasure is the shop's walk-in humidor. Made from Spanish cedar, the walls, ceiling and shelves help preserve the integrity of the cigars while the temperature inside is kept at a comfortable 70 degrees with 70 percent humidity. This is to help preserve the cigar's flavor and moisture. Customers will find a wide selection of over 300 different kinds of cigars.  The prices range from $4 to $30 apiece.
However, Maduro isn't just about cigars themselves. They offer a wide variety of cigar accessories: ash trays, cutters, lighters, cases, and even small humidors for the home. In addition, the shop carries a nice selection of clothing, jackets, hats, and bags to compliment the cigar smoker. So if you are looking for a unique Father's Day gift, even if Dad doesn't smoke – Maduro on Main might have something that would be a perfect present.
What might surprise you is that the main part of Maduro on Main is a non-smoking area in accordance with Hancock County's smoking ban. However, shortly after opening his store, Harnish sought an exemption to open a smoking lounge in the back of his store. This would be a place where people could gather and enjoy a good cigar. Harnish did get an exemption to create a smoking lounge; however, the lounge is equipped with a top-notch ventilation system. This prevents the smoke from going into the front of the store, or creeping over into other nearby businesses.
Maduro on Main is open Tuesday – Saturday 11:00am – 8pm. They are closed Sundays and Mondays and  for major holidays.  You can find them on Facebook or check out their website at https://maduroonmain.com/
Maduro on Main is also very patriotic too. They support "Cigars for Warriors," a not-for-profit whose mission is to provide premium cigars and cigar accessories to US troops serving in active combat zones. Since 2012, over 1.3 million cigars have been donated to US servicemen and women, in addition to coffee, magazines, cigar lighters and cutters. You can purchase cigars in Maduro on Main and drop them in the donation box for the "Cigars for Warriors" project.
Sources:Fishers Towne Post, Greenfield Daily Reporter, Maduro on Main Facebook Page, and Maduro on Main website.
–by Brigette Cook Jones, Executive Director Hancock County Tourism and Visitor Center
To stay up to date on everything in Hancock County, be sure you are receiving Hancock County Tourism's weekly e-newsletter. You can register on the website at www.visitinhancock.org