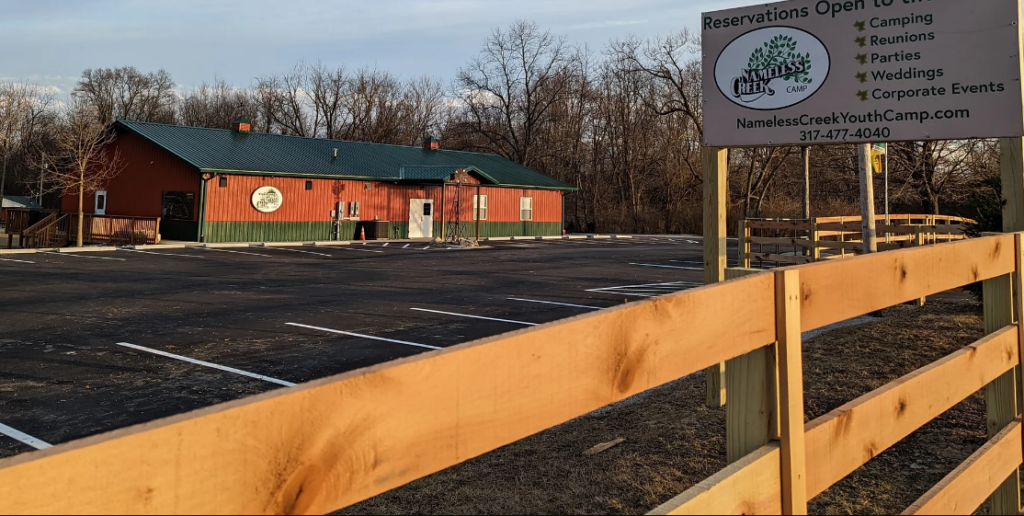 Nestled in rural, southeastern Hancock County is a beautiful place with so much to offer. Nameless Creek Camp, located at 2675 S – 600 E, Greenfield, is dedicated to the mission of increasing the appreciation of nature and the enjoyment of the outdoors by creating year-round recreational, educational, and camping opportunities for youth, families, and communities in Hancock County and the surrounding counties.  The camp offers their facilities for camping, education opportunities, recreation and as a host facility for weddings, reunions and other events.
The jewel of Nameless Creek Camp's facilities is the main lodge, which can hold 150 people. It features a beautiful conference and event space with high tech A-V capability, a full kitchen, bathrooms, showers and a beautiful deck in the back. The camp also has for rent 3 heated and cooled cabins that sleep between 5-10 people; a rec hall with a fireplace stove and camp kitchen that holds 50 people; 3 tent platforms; 5 campfire pits; walking trails; and newly renovated bathroom facilities. For those interested in some recreation, the camp features a dodge ball pit; tether ball; sand-lot volleyball; hiking trails; activity field that can be used for soccer or other games; a small pond for fishing; and a stream for having some splashing fun.
Nameless Creek Camp hosts all sorts of events, camps and groups. Of course, the camp is a favorite place for Boy Scouts and Girl Scouts, but it has also been used for family and school reunions, corporate retreats, LARP events, wedding receptions, class reunions, and church retreats. Any time a group wants to gather in the great outdoors and in nature – – these facilities provide many options.
However, Nameless Creek Camp also has their own programming as well. They host a "Plug Into Nature Camp" for students 3rd through 5th grade on July 10-14, 2023. They also host their fundraising gala, "Fall That Jazz" on the first Friday in November. Last year, they hosted a public program on Owls. Look to Nameless Creek Camp's social media on Facebook and in their news section on their website at www.namelesscreekyouthcamp.com to get up to date info on their events and activities. You can also get info about renting the facilities for your future event planning needs.
The Nameless Creek Camp was established in 1951 as generous donation to the young people of Hancock County and surrounding counties by former Indianapolis News writer, William "Tubby" Toms and his wife Adeline. The original lease of the land was for a lot of 20 acres; however, upon Tubby Toms death in 1969, an additional 10 acres was added to the camp for a total of a 30 acre space. Tubby and Adeline's cabin, where the couple would spend time hunting and fishing, was also originally a part of this property (However, some of this property has been since sold). A not-for-profit organization, Nameless Creek Camp, currently runs this property and maintains the facilities.
Tubby stated, "I wish every boy and girl could have the experience I did living on Six Mile Creek." Tubby was a native Hancock Countian. He was born near the small town of Westland, which is located in southeastern Hancock County. He was born in 1869 to Edgar V. and Margaret Elma (Powers) Toms.
As a young boy, Tubby attended the Westland School, located in Blue River Township. The one-room school houses had been consolidated into one building by Tubby's grandfather, Blue River Township Trustee William Toms. It was the first township in Hancock County to consolidate all of its one-room school houses into one building. Tubby attended Westland School for most of his education. However, his family moved to Greenfield when he was in his final years in high school so he ended up being a Greenfield High School graduate in the class of 1914.
Tubby would attend DePauw University studying journalism. However, his college career was interrupted when the United States entered into World War I. Tubby would enlist in the US Army Air Corp, and would become one of the founding members of the first Air Service newspaper, "Flights and Landings." At the end of his service, Tubby would resume his college education at DePauw where he would get his Bachelor of Arts in journalism in 1920. Later Tubby would attend Columbia University where he would get his Bachelor of Literature degree in 1922.
Tubby would work for several different newspapers before he settled in at the Indianapolis News in 1926. He started off as a political and statehouse reporter and followed several different very important political campaigns.  In 1932, he wrote a series of stories which helped the Indianapolis News win the Pulitzer Prize for public service. In 1934, he spent an entire year focusing on the story of John Dillinger. In fact, Dillinger asked for Toms to conduct an interview with him – saying that he felt Toms was the only honest reporter that he could trust. Toms walked out of the interview with a story and a rabbit's foot.
Toms was an avid fan of DePauw football. He conceived the idea of some sort of trophy to be given to the winning team in the annual gridiron clash between Wabash and DePauw. He procured the "Monon Bell" for this purpose, and that bell is still given today to the winner of that game. The bell was first awarded to the winner of the 1932 game.
Tubby Toms would eventually switch over to writing a nature, fishing, and hunting column for the Indianapolis News entitled, "Out in the Open." He would write this column three days a week for over 20 years. He was named Indianapolis Pressman of the Year in 1966 by the Indianapolis Press Club. He received a Sagamore of the Wabash from the Governor that same year. He was a member of the Indiana Academy of Science, the Indiana Historical Society, a founder and life member of the Indianapolis Press Club, and a birthright member of Westland Friends Church. Yet statewide he was known as "The Dean of Hoosier Outdoorsmen."
Toms would pass away in 1969 and is buried next to his wife Adeline in Asbury Cemetery in Morristown, which was near their home. He had no children. So his legacy became a scholarship fund that was established at DePauw for journalism students – and the creation of a Youth Camp at Nameless Creek.
The nearly 12 acre property that is Nameless Creek Camp today is a lasting legacy to Tubby Toms and everything that he loved about Blue River Township, Westland, Nameless Creek – and the great outdoors.
—Brigette Cook Jones, Executive Director of Hancock County Tourism
Sources: Indianapolis News; Indianapolis Star; Greenfield Daily Reporter; Ancestry.com
To stay up to date on everything in Hancock County, be sure you are receiving Hancock County Tourism's weekly e-newsletter. You can register on the website at www.visitinhancock.org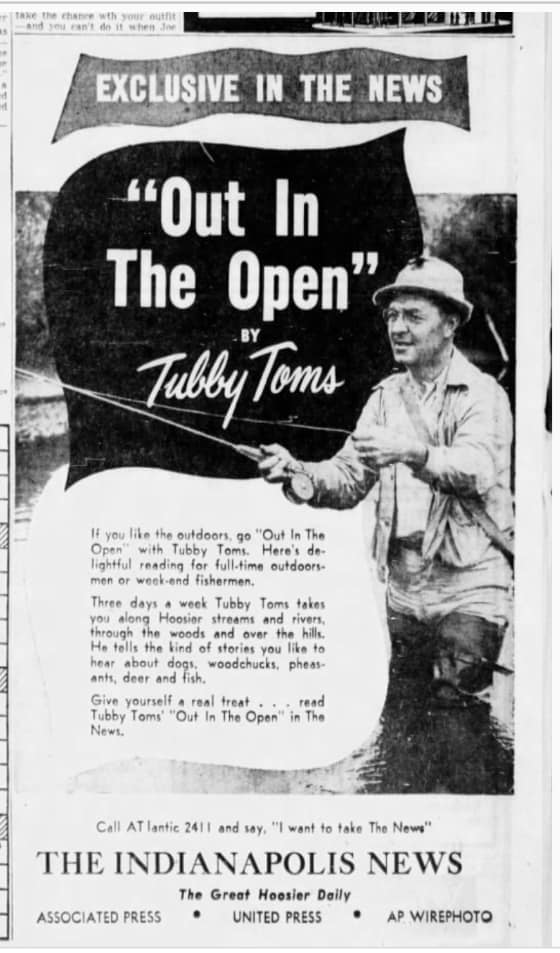 Advertisement for "Out in the Open" Tubby Toms column in the Indianapolis News.