Organic Robot Designs – Greenfield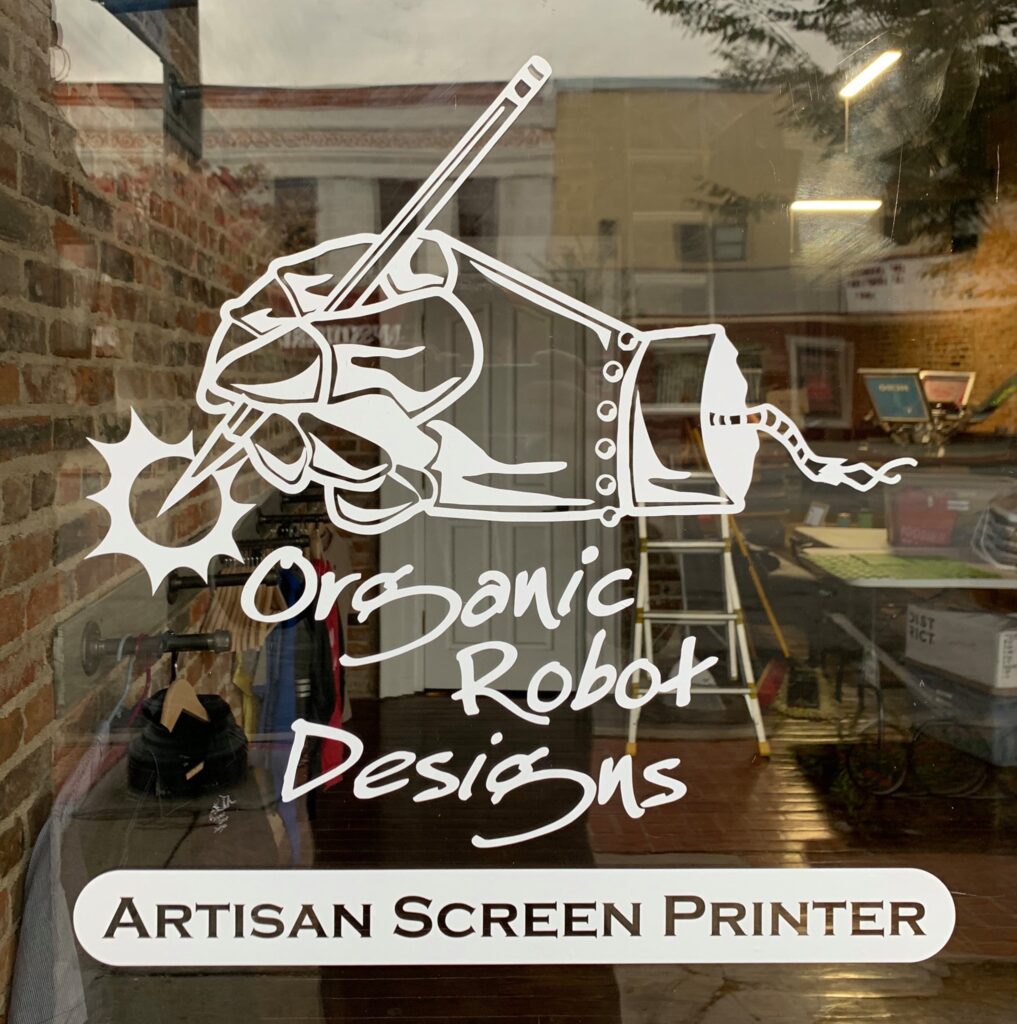 When you walk into the space that is Organic Robot Designs, located at 113 W. Main St., Greenfield, you get the true sense of the owner, Charlie Vetters. There is the couch over to the side with a coffee table in front. A lap top can be frequently seen on the table. It is a comfy and inviting space where creativity can flow. The original brick walls of the building are exposed with hand hewn beams in the ceiling – a testament to the solid structure and the desire to keep connected to historic roots. The screen print machine sits visible in the back of the store – along with all of the paint, blank shirts and the accoutrements needed to produce screen printed designs. It is the workhorse of the business and the focus point of the back of the shop. And – – along the walls… the creations themselves – like canvases of art hung in a gallery for all to see, the varied t-shirt designs are up front and visible through the main window of the store.  This is very much the personality of Vetters, who started his business in 2016 in his family farmhouse just south of Greenfield. What started out as a side business has grown into a full time job and even expanded to a second larger production location.
Vetters said that he wanted to create things that excited him – not just have a monotonous production of soccer t-shirts. So the business is very much a reflection of his life. The artistic part, which is expressed in his all-original designs, echoes his passion for creativity. You won't find cobbled together pieces of clip art in Vetter's work. His designs are all his own creations.  However, within these designs you do see certain themes emerge…  Vetters has a love of the Indiana Outdoors. He is an avid "spelunker" (a person who enjoys exploring caves) and a frequent visitor to Indiana's State Parks. This passion shines through in many of Vetter's designs which feature the great Indiana outdoors. Vetters also has a passion for the state of Indiana. So many of his designs have a Hoosier theme such as variations on the Indiana State flag or shirts highlighting the state's official symbols (Tulip Tree; Cardinal and Peony). Also, his love of his hometown will appeal to a more local crowd because these designs feature a specific Hancock County place. Anyone who grew up in Greenfield would understand his image of a sled being launched into the air with the words, "Riley Park Sled Team" emblazoned at the top. These are just a few of the types of shirts that Vetters designs, and he is always creating more.
These unique pieces started to be created in the Vetters' home when Charlie started the business in 2016. He soon opened an Etsy store online, and then he and his wife Debbie started showing up at local festivals like the Pennsy Art Festival and the Riley Festival. Gradually, the business grew so that the Vetters were going to more and more festivals and were even out at the Indiana State Fair for its entire run. By 2020, it was time to start looking for a brick and mortar location, and Organic Robot Designs made the move into the storefront in downtown Greenfield. This move did another thing for Charlie's business because it added better opportunities to engage with the local community.
As a result, the Greenfield store has become a fixture for another part of Vetter's passion and that is connecting with the community. Charlie frequently hosts Facebook Live events where he talks to a variety of people about their passions. Whether it is interviewing a local band; talking to a local not-for-profit organizer; or hosting a history discussion, Vetters is the man both behind and in front of the camera. The comfy couch in his store becomes the interview location as Vetters chats with people about their experiences. He also hosts several "live screen print" events where a specific design can be captured only on that day. It might be for St. Patrick's Day where a green t-shirt will feature local poet James Whitcomb Riley. It may be a specific design for a special event – such as the Flat 50 or Freedom Fest. It may feature a design for a local band that is playing at the Ricks Centre across the street from Vetter's shop. Whatever the event, Vetters can create a unique design and give an "exclusive" t-shirt option for organizers to sell and customers to purchase.
In 2023, Organic Robot Designs expanded again. This time a larger production facility was created over near Depot Street Park. This larger facility allows Vetters to produce his items more quickly. When there is a concert or other event in the park, he can simply raise the garage door on the front and do live screen printing right on site. No more need to set up a tent, bring the machine, and put out product. The only drawback to this set up is that it has effectively split the husband and wife team. While Charlie spends much of his time at the production facility, his wife Debbie is holding down the fort at the Main Street storefront.
It should be noted that Organic Robot Designs can do all types of screen printing,  heat transfer and embroidery on shirts, hats, hoodies and other clothing items. They can also create decals, banners, signs, stickers,  magnets and other promotional products for your business. The best option is that Organic Robot Designs can create an online store for your organizational items – so no more collecting handwritten forms for the team's t-shirts, or the company's polos. This can all be set up and selected through a shareable link to an online store process.
To get more information about Organic Robot Designs and all of their services, please visit their website at: www.organicrobotdesigns.com  or visit their Facebook page, or visit their Etsy Store. Organic Robot Designs is open Monday – Friday 9am – 5pm. They are closed on Saturday and Sunday.
Organic Robot Designs Gives Back to the Community!
Organic Robot Designs doesn't want to be "just another t-shirt" company. There are too many of those now. They want to be something different. That is why they donate a part of every sale to charities and nonprofits, and they engage with the local community every chance they get.
They also seek to help out these organizations by partnering with them to create online fundraising events to minimizing the normal hassles of fundraising (handling money; gathering order forms; and selling stuff from catalogs that no one wants but feels obligated to buy).
They would love to talk to local organizations and groups to learn about your nonprofit or community project. They would like to find out how they can help your group or organizations raise money for your projects, needs, or services. Contact Organic Robot Designs today to find out how they can partner with your group or organization to help with fundraising efforts.
–Brigette Cook Jones, Executive Director, Hancock County Tourism and Visitor Center
September 9, 2023
Sources:
Organic Robot Designs website, Etsy and Facebook page.
 Daily Reporter, Greenfield, IN
To stay up to date on everything in Hancock County, be sure you are receiving Hancock County Tourism's weekly e-newsletter. You can register on the website at www.visitinhancock.org