Piney Acres Farm – Fortville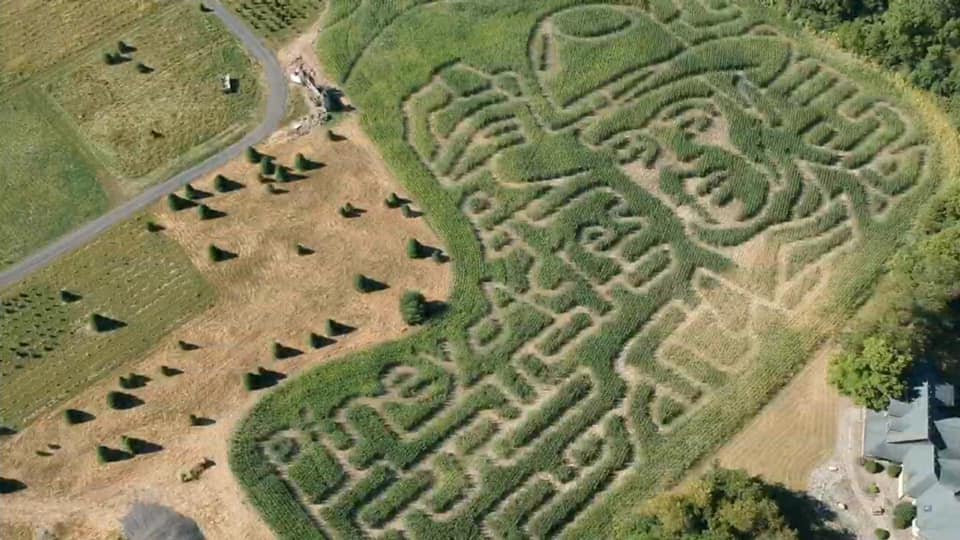 Are you looking for a place with some fall fun activities for the kids? Pumpkins? Corn Maze? Hayrides? Games? Activities? How about 73 acres of activities? You can find all of this and more at Piney Acres Farm, located at 1115 E – 1000N, Fortville, IN.
Piney Acres Farm started in 1999 when Rex Zenor and his family moved from Indianapolis and bought a 73 acre soybean field in northwestern Hancock County. Rex, who is a talented carpenter, built a house for his family, and then started on planting Christmas trees. This was a long, hard process. However, by 2005 – Piney Acres opened for business selling the trees that were planted a few years before.
Since then, the farm has grown to include pumpkins, games, hayrides, a huge corn maze, gem mining, barnyard animals, a farm store and many other amenities. It is open to the general public during a fall season, and a Christmas season. However, while the farm is not open to the general public year round (except for group visits and special events), the farm does have a variety of special events during their "off season."
So what does a year at Piney Acres Farm look like??
Fall is harvest season with the pumpkins, hay rides and corn maze.  **Opening Day for the Fall Season at Piney Acres is September 23, 2023. There fall season hours are:  Tuesday – Friday noon – 6pm; Saturday 10am – 6pm; and Sunday noon – 6pm (Closed Mondays). Ticket and activity pricing is available at the Piney Acres Farm website.
The super scary Scream Farm at Piney Acres Farm opens later in the fall. It includes a Haunted Loft, a Haunted Trail, and a Haunted Maze. However this attraction is only available on the weekends and late at night. The Scream Farm is open on Fridays and Saturdays only. On the weekends from Sept 29 – Oct 7 they are open 7 – 10pm; and on the weekends from Oct. 13 – Oct. 28, they are open 7 – 11pm. Ticket pricing for the Scream Farm is available at the Piney Acres Farm website.
And what would a "Piney Acre" be without some pines? First and foremost, the Piney Acre Farm is a Christmas Tree Farm. This is where it all began. You can pick out your own tree and cut it down, or pick from a selection of pre-cut trees. The farm store is open as well as other activities. Sometimes you might even find Santa making a visit. The Piney Acres Christmas Tree Season runs from November 18 – December 23, 2023. Sunday – Friday hours are from noon – 7pm (last entry at 6:30pm), and Saturday hours 10am – 7pm (last entry at 6:30pm).
However, Piney Acres Farm isn't just about fall and Christmas events. In the Spring, the farm hosts a breakfast and an Easter Egg hunt with a visit from the Easter Bunny.
There have also been some summer movie nights and other special events during the farm's normal "off-season." So be sure to follow the Piney Acres website and social media to keep up to date on everything going on at the farm.
In addition to Piney Acres seasonal public hours – the farm is available for group tours and special events (both during their public seasonal hours and off season). You can find out how to book those by visiting the Piney Acres Farm website.
Photographers wanting to use the farm as a backdrop for photoshoots may do so – but everything must be approved in advance and a photo fee is assessed. You can find out more about Piney Acres Farm's photo policy on their website.
Piney Acres Farm is gearing up for their fall open season. They have a lot of exciting things to see and do so be sure to check out their website at Piney Acres Farm. You can also follow them on Facebook, Instagram, and YouTube.
MOVIE NIGHT ON THE FARM – September 22, 2023
Piney Acres will be hosting a double feature with "It's the Great Pumpkin, Charlie Brown" and "Hocus Pocus."
The farm opens at 5pm and families can enjoy farm activities before the first movie starts. Admission is $10 per kid and $7 per adult. There will be hayrides available. You can visit the corn maze, or check out the farm's barnyard friends. **There might even be some special guests arriving later that evening.
The movies start at 8pm. Snacks will be available for purchase. Please bring lawn chairs or blankets to view the movie.
–Brigette Cook Jones, Executive Director, Hancock County Tourism and Visitor Center
Sources:
Piney Acres Farm website and Facebook page.
Daily Reporter Newspaper, Greenfield, IN
To stay up to date on everything in Hancock County, be sure you are receiving Hancock County Tourism's weekly e-newsletter. You can register on the website at www.visitinhancock.org