Red Ranch Shoppes – Fortville
Red Ranch Shoppes in Fortville is a great place to find that unique gift or something special for your home. Located at 214 S. Main Street in Fortville, Indiana, Red Ranch Shoppes offers a wide variety of different items for sale that include home décor, china and glassware,  farmhouse, shabby chic, antique and vintage pieces, Junk Monkey Company chalk paint and paint supplies, boutique apparel and accessories, spirit and local Fortville wear, patriotic items, western items and pet gear and treats for your dog or cat.  They have several handcrafted items from local artisans, which include candles, jewelry, soaps/lotions, ceramics, florals, greeting cards, gnomes, embroidered and crocheted items, unique custom signs, artwork on barn wood, mixed media art and paint poured art.  There is something for everyone!
The Red Ranch Shoppes is owned by Pete and Kim Hubert, who purchased the shop in 2020 (it opened in 2019). Since Kim has taken over the management, the featured merchants in the shop has greatly increased to include over 30 vendor booths. They are filled with an assortment of selective and one of a kind products. The business has also just recently reopened their annex portion of their shop, located in the back of the building. This section has recently gone through a make-over and rehab, and it is now open and filled with additional eclectic pieces and a plethora of interesting items.
Red Ranch Shoppes also participates in "Fortville's Girls' Night Out" where several of the downtown boutiques and shops are open late in the evening, and the locally owned restaurants offer discount and dinner specials for the ladies. There are also sometimes prizes, raffles and special giveaways. If you would like to find out when the next "Fortville Girls' Night Out" will be – follow Red Ranch Shoppes on Facebook, look for the event on "All Events" and also the event will be posted on the Hancock County Tourism's Event Calendar.
To stay up to date on everything in Hancock County, be sure you are receiving Hancock County Tourism's weekly e-newsletter. You can register on the website at www.visitinhancock.org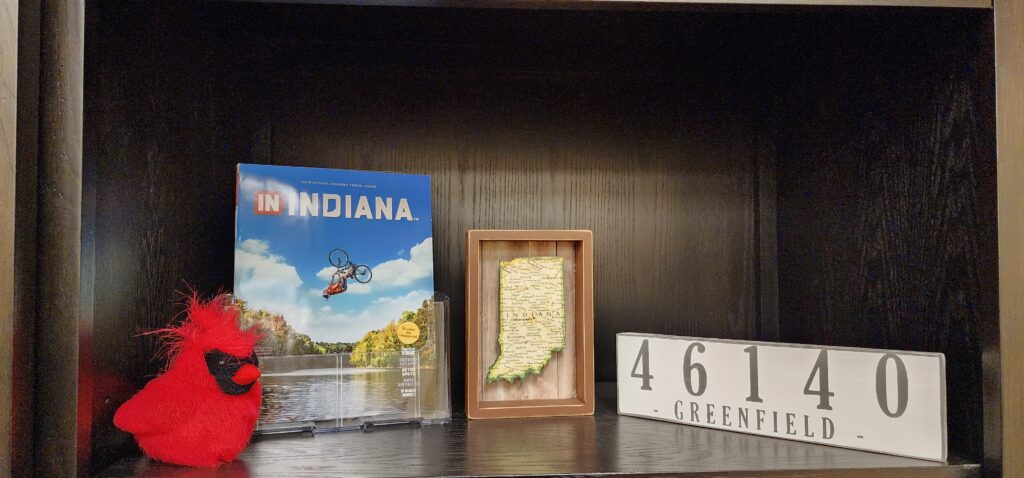 Check out the cool zip code block for Greenfield that was purchased at the Red Ranch Shoppes. It is currently on display in the Hancock County Tourism office!  Now we just need to add the other Hancock County zip codes to complete the set!!