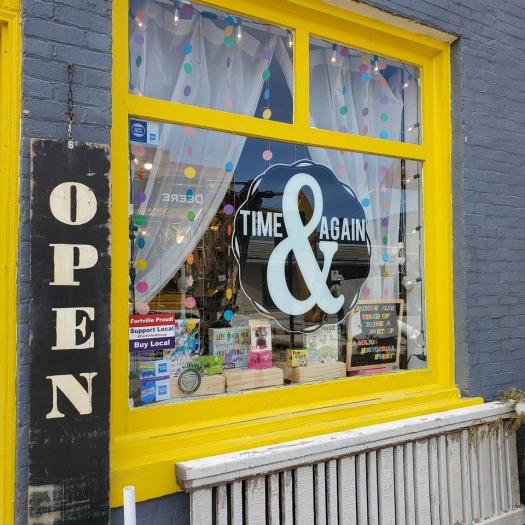 Have you ever heard the phrase, "What is one man's trash is another man's treasure?" This is certainly the case at the Time and Again Shop, located at 230 S. Main St. in Fortville, IN. When owner, Allison Rose,  was a little girl, her greatest influence was her grandmother. Allison's grandmother had lived through the Great Depression, and so everything was looked at for the value that it had. This lead Allison to use that same discerning eye to look at discarded and used items and to convert them into something wonderful.
Rose's first project was taking beautifully hand embroidered pillowcases and turning them into baby and toddler sundresses for her daughter. The response from friends and family was tremendous and requests for her unique dresses started coming from not only friends and family, but friends of friends and friends of family. Allison quickly saw that she had a business in the making.
Flash forward to December 2016, Rose decided to open "Time & Again" on Main Street in Fortville. "My shop is very much me," Rose comments. "It's a collection of things that make me happy. It's handmade. It's vintage. It's repurposed. It's fun. It's quality handmade items I know I would buy for myself and that others would appreciate."
Allison and her crew of 25 other crafters fill her store with unique designs, frequently made from vintage or recycled pieces. This includes stuffed toys, jewelry, baby dresses, candles and much more!
Allison also does custom work. Do you want a Teddy Bear made out of Papaw's old shirt? Would you like jewelry made from the dress of a best friend who has passed? T-shirt quilts for that teen getting ready to go off to college can be made from all of their high school activity shirts. This way they can take a little bit of home with them on their new college adventure.
In addition to the Fortville storefront, Allison also sells her items on Etsy. And if you are in the mood to try your hand at doing some crafts yourself, Time & Again provides some DIY kits too.
Time & Again's hours flex with the season so be sure to check out their social media or website to find out when they will be open. You can find them on Facebook or Instagram.
You can also check out their Etsy page HERE, and find their website at https://timeandagainshop.com/password 
Time & Again Shop is always eager to participate in any of Fortville's special event and activities. You can find the shop open for all of Fortville's great events, including Fortville's Summer Fest, which takes place on Saturday, July 8, 2023. Be sure to check out their social media to find out their upcoming events. Also, you can find out when the shop is taking reservations for t-shirt quilts too.
–Brigette Cook Jones, Executive Director, Hancock County Tourism and Visitor Center
Sources:
Time & Again Facebook, Instagram and Etsy Page.
Towne Post Newspaper
To stay up to date on everything in Hancock County, be sure you are receiving Hancock County Tourism's weekly e-newsletter. You can register on the website at www.visitinhancock.org